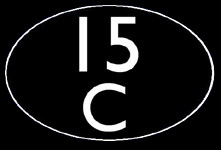 ---
---
FAQ-1
Low Light Photography Using High ISO Settings
Below are details about some of the methods that I use in my photography. They are reproduced here in the hope that they help others. However, I would like to stress that I am not the font of all knowledge on photography, and I would hope that people read these notes with a completely open mind, as there may well be better methods out there.
Digital cameras can cope much better in low light situations that film ever could. Trust me, I have tried high speed film, and also taken photographs in low light on high ISO on a range of digital cameras and have watched their high ISO performance improve as new models are brought to market. Many say that you have to have a really expensive camera to get good performance at high ISO, but that is only partly true. Having a camera that performs great at high ISO is just one element of many that makes it possible to record moving subjects in low light. Some key points are as follows:
Your enemy in this type of photography is digital noise. If you zoom in on a picture that has a lot of digital noise you will see random coloured specks which give the picture a lack of definition and a fuziness. Noise increases the higher you go in the ISO range. Your mission should you wish to accept it is to minimise digital noise while still maintaining a shutter speed that is capable of freezing your moving subject.

High ISO photography is therefore a balancing act between shutter speed and ISO setting. The higher the ISO setting, the faster the shutter speed can be used, but the more digital noise there will be on the picture. If you decrease the shutter speed, the ISO setting can be dropped and the better the picture quality (ie: less digital noise).

Using a lower ISO setting and under exposing the picture isn't an option either, as the act of brightening the image later on a computer will add noise to the picture. You will get a much better result by exposing the image correctly in the first place.

To give yourself a head start in the shutter speed vs ISO setting battle, it is a good idea to get as much light through to the sensor as possible. For this reason, it is worth using a fast prime lens. Many of these open up to f2, f1.8 and f1.4, whereas a typical zoom lens will only open up to f3.5, which is two stops less light than using a lens at f2.

As an example, if a scene was being shot at ISO 3200, 1/250th sec @ f2 with a prime lens, using a zoom that could only open up to f3.5, the settings would be ISO 3200, 1/60th sec @ f3.5, a shutter speed which may not freeze the subject. The only way to get the shutter speed up to 1/250th sec in this case would be to increase the ISO setting to ISO 12800. So as you can see, using a prime lens is like having a head start.

Next is depth of field, for using lenses wide open or close to wide open reduces the depth of field. The depth of field is how much of the picture is in focus from front to back. Typically, if you focus on the front of a train with a wide open aperture, the rear of the train will be out of focus. So here we have yet another balancing act, as a smaller aperture increases the depth of field, but comes at the expense of either having to increase the ISO setting or decrease the shutter speed (or a combination of the two).

It is a good idea to pick a focus point slightly behind the front of your subject. For example, if I was photographing an Underground train, rather than focus on the front, my focus point would be about half way down the front carriage. This will get more of the picture in focus and reduces the need to use a smaller aperture.

Some camera's auto focus can tend to hunt when trying to function in low light. For this reason, I pre-focus before the subject enters the shot, and if it has bright headlights, I often switch the auto focus off as bright lights in a dark surrounding are highly likely to make the focus hunt.

Although this topic is all about shooting moving pictures in low light, it is still wise to pick a location that is well lit in order to get the best results. This isn't miracle technology, and standing in the middle of the countryside at night with no lighting will not yield any results, whereas a nicely lit station will.
---
So now you have taken a shot of a moving subject in low light with a high ISO setting, what about the processing?
I always shoot in RAW. If you are shooting in low light, that probably means that there is artificial light in the picture. Using RAW gives greater control over highlights, shadow areas and colour temperature.

If the resultant image still has a lot of digital noise, try using noise reduction software such as 'Neat Image' (google it). This can be used to reduce the amount of noise in the picture by sampling a constant area of the image and using various settings to remove the speckles. I could try and give guidance to what settings to use, but I'm afraid it is more a case of trial and error, and will depend on the image, the content of the picture etc.

The above picture shows a picture as taken (this was off the Nikon D300). The square shows the area to be sampled. The 'digital noise' can be clearly seen.

This illustrates the same area of the photograph after noise reduction has been applied.

A word of warning with noise reduction software though, if overdone or not used correctly, it can soften an image and reduce the detail, so yes you've guessed it, we have yet another balancing act. Try and remember it is noise REDUCTION software, not noise removal.

A good idea if the noise reduced image is a bit soft, copy it, and paste it in over the original image as a second layer, then make this layer 50% opaque and then flatten the image. This will allow some of the detail through and reduce some of the noise.
---
A final note, many people tell me I only get moving night shots because I have an expensive camera. While my current camera does perform very well at high ISO setting, it should be remembered that I have managed to get some very acceptable results from my old Nikon D80 and D300 cameras, and most subsequent entry level cameras from Nikon perform as well, if not better than these models in the high ISO range. If I had to single one thing in the above text as having the most impact in attaining good quality images in low light, it would be the use of a prime lens. One thing that using the D750 does allow me to do is to work at a higher ISO so that I can use a smaller aperture and have a better depth of field, and it also allows me to take pictures where there is less light than is ideal.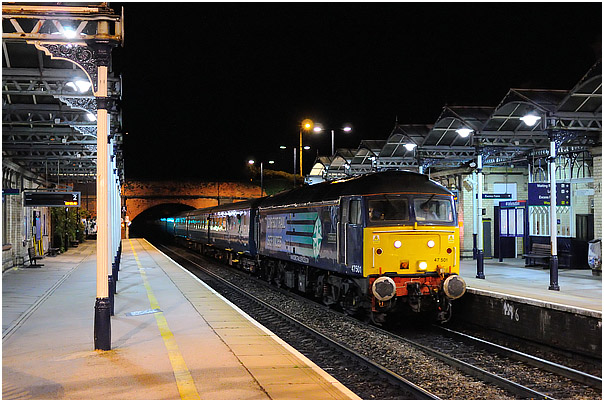 The above picture is one of my early attempts at a moving night shot. Taken at Loughborough station in August 2009, it shows 47501 slowing to stop at the station with a railtour. The estimated speed at this point would be about 15mph. The shot was taken with a Nikon D300 using a 35mm f2 prime lens set at f2.5 @ 1/100th sec shutter speed. Even at this slow speed, 1/100th sec hasn't quite stopped it, and there is a slight amount of motion blur on the front of the loco. The image has been processed from RAW and then noise reduced in Neat Image.