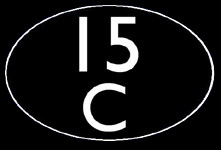 ---
---
Updates
This page will be used to inform visitors when newly taken photographs have been added to the site. The picture links you see below, will take you to the picture, but if you wish to return to the updates page, you will either have to click 'back' or click on the updates tab at the top of the page.
Latest update - 19 February 2018 @ 1800
---
17 February 2018 - Two Spa Towns
Added 19 February 2018
Another weekend thwarted by poor weather around a lot of the country, so it was back to a bit of night photography. First of all, a very early morning drive across to Cheltenham Spa to capture 37069 and 37259 at the head of a Pathfinder railtour. My son and I have both wanted to get BR blue liveried 43002 for a night shot at Cheltenham, and as we walked back to the car to head home after the 37s, we joked how no doubt it would drop on a working today when we had already been to Cheltenham....and guess what!? Sure enough, 43002 was allocated to 1G47, so we headed back down to Cheltenham in the evening. This actually worked quite well, as we were able to drive back via Leamington Spa and bag the class 20s on 7X08, so it was certainly worth the effort.
---
15/16 February 2018 - Brentingby
Added 16 February 2018
There haven't been many dinner time pop outs from work for trains passing through Melton Mowbray of late, so it was nice to have two such pop outs on consecutive days.
---
10/11 February 2018 - London Buses and Liverpool Street
Added 16 February 2018
A Timeline Events photo charter with a couple of London buses and an old taxi was preceded by a quick picture taking session at London's Liverpool Street terminus.
---
3 February 2018 - Wet Night in Croydon and an 86
Added 8 February 2018
A wet evening taking night photographs of trams in Croydon, followed by a dash back to Euston for 86259 arriving with a rake of maroon mk1s.
---
1 February 2018 - Chopper Chase
Added 3 February 2018
An evening spent chasing the 20s on the S Stock move from Derby to Ruislip. The chosen locations were Leamington Spa and Banbury.
---
28 January 2018 - GCR Winter Steam Gala
Added 29 January 2018
Looking at the forecast, I am amazed I managed one shot in sun, but in fact, I only dropped one shot all day. The GCR's Winter Steam Gala, was as always, a superb event.
---
23 January 2018 - 4F at the K&WVR
Added 26 January 2018
A Timeline Events photo charter at the Keighley & Worth Valley Railway with resident 4F 43924. A jolly good day with some nice results, and even a splash or two of sunshine. I was very pleased to get the tunnel reflection shot.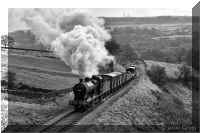 ---
20 January 2018 - Derby Double Session
Added 26 January 2018
A cloudy Saturday, so decided to do a few night shots and ended up in Derby - twice! Once in the morning and then back again late evening.
---
17 January 2018 - Random Shed
Added 26 January 2018
Lunchtime at work, and I was hoping for a 37 that was running round a Crossrail unit in Melton loop, but I ran out of time for that and had to make do with just a shed on 6M60.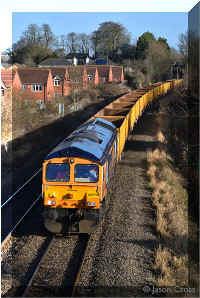 ---
14 January 2018 - London
Added 26 January 2018
My first trip to the capital of 2018, and this was a day out with my wife, so not a day based around chasing transport subjects. That said, if you're using public transport to get around, you might as well photograph it at the same time :-) Oh, and where did that battery loco come from?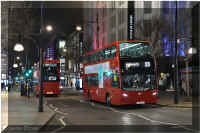 ---
13 January 2018 - York at Night
Added 26 January 2018
A Saturday evening taking night shots at York station. The main targets were 91s and HSTs, plus anything else that got in front of the lens.
---