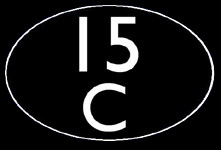 ---
---
Updates
This page will be used to inform visitors when newly taken photographs have been added to the site. The picture links you see below, will take you to the picture, but if you wish to return to the updates page, you will either have to click 'back' or click on the updates tab at the top of the page. Meanwhile, the revamp continues with new galleries popping up, and exisiting ones being populated.
Latest update - 23 September 2017 @ 1730
---
23 September 2017 - Eurostar for Scrap
Added 23 September 2017
A night time visit to Peterborough for the 6X73 Eurostar scrap move worked by 66753.
---
22 September 2017 - Double Skips
Added 23 September 2017
A lunchtime pop out for the delivery of another Crossrail unit to the Old Dalby test track for testing. Unusually, this was hauled by a pair of class 67s (the working is usually worked by a single loco)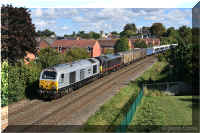 ---
19 September 2017 - Local Green Shed
Added 19 September 2017
It was rather sunny on the way home from work, and with hardly any wind, I decided to do the full 10 metre high pole shot in the field at Cossington of the Trowse to Tunstead.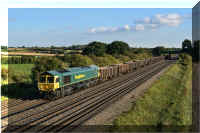 ---
16/17 September 2017 - London Underground
Added 19 September 2017
The cement mixer train that works in the Metropolitan Line tunnels north of Baker Street was making a rare weekend appearance, so I decided to have a casual saunter down to London in the afternoon to have a general photting session around the system, and then lay in wait for the cement mixer at Wembley Park, followed by Willesden Green.
---
9 September 2017 - London Underground Vintage Summer Steam
Added 10 September 2017
The London Underground and London Transport Museum staged a heritage event called 'Vintage Summer Steam. This featured steam locos 'Metropolitan 1' and ex GWR large 'Pannier' 9466 together with class 20s 20142 and 20205. It was a very enjoyable day with one or two very lucky sunny shots of the steam service, together with a few London Underground trains and a couple of Chiltern Railways trains.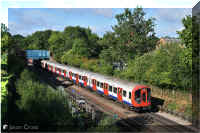 ---
4 September 2017 - Crompton Breakdown Train
Added 6 September 2017
An EMRPS photo charter with class 33 D6501 (33002) at the Midland Railway Centre. The loco is visiting from the South Devon Railway and it was put into action at the head of a breakdown train. The forecast for the day was dire, but we managed a few sunny shots, amazing really as we probably had a total of about 3 minutes of sunshine all day. Thanks to the crew for their hard work, and to the photographers for supporting the event.
---
3 September 2017 - Leicester Bus Running Day
Added 3 September 2017
A shame about the dull weather, which tried and failed to spoil another totally excellent Leicester Bus Running Day organised by the Leicester Transport Heritage Trust. I spent most of my time in the city centre grabbing a few memory jerking images on Abbey Street and Charles Street.
---
2 September 2017 - Beeches Light Railway
Added 3 September 2017
A very enjoyable afternoon spent at the private Beeches Light Railway in the company of Darjeeling and Himalayan Railway B class number 19. What a fantastic little set up.
---