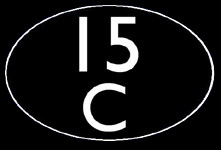 ---
---
Updates
This page will be used to inform visitors when newly taken photographs have been added to the site. The picture links you see below, will take you to the picture, but if you wish to return to the updates page, you will either have to click 'back' or click on the updates tab at the top of the page. Meanwhile, the revamp continues with new galleries popping up, and exisiting ones being populated.
Latest update - 19 July 2017 @ 2100
---
17 July 2017 - 7X23
Added 19 July 2017
An unexpected 7X23 taking an S Stock from Derby Litchurch Lane to Asfordby Test Centre. This was captured leaving Melton Up Loop, a shot I had not tried before....well not since about 1987!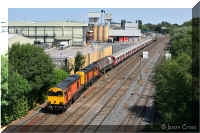 ---
16 July 2017 - Blackpool Trams
Added 19 July 2017
Shame on me for not managing to visit Blackpool in 2016...That was partly put right by visiting for the 2017 Tram Sunday event. The forecast looked good, so a move was made, and with a tram to and from Fleetwood every 20 minutes, I concentrated on the section between Bispham and Thornton Gate. The weather produced, and so did the trams with a good selection of heritage trams operating. Of course, it is possible to photograph the modern trams too in between the heritage ones, so the camera was kept quite busy. Finally, at the end of the day, three trams that had been on display in Fleetwood made their way south and were recorded at Rossall School, the furthest north I ventured all day.
---
9 July 2017 - D6501
Added 11 July 2017
A trip to the Midland Railway Centre to talk photo charters with visiting class 33 D6501, which looks splendid.
---
8 July 2017 - Nottingham Trams and Buses
Added 11 July 2017
A chilled out day in Nottingham, with far more sunshine than was forecast. My main aim was to capture pictures of trams in a few places, but especially crossing the viaduct near to Nottingham station from the top of the Broadmarsh car park which was about to be closed. While I was there, I also took a few pictures of the bus station below, which was also closing. As the Broadmarsh bus station is (or was) basically a concrete monstrosity, I tried to re-dress the balance by taking a few buses outside Nottingham station. Note, the first two tram pictures were actually taken on the day before while I was changing at Nottingham station onto a train to Skegness, and the final two the day after when I was passing through.
---
6/7 July 2017 - Local Sheds
Added 11 July 2017
A couple of local Freightliner green 66s.
---
2 July 2017 - GCR(N) Diesel Gala
Added 2 July 2017
The afternoon suddenly became sunny, so I headed up to the area north of Loughborough for a few shots of the GCR(N) Diesel Gala.
---
1 July 2017 - Devon and Cornwall
Added 2 July 2017
A trip to the south-west on a good forecast with the main target being the class 57 loco hauled diagram. I managed three shots of this train, plus a few units and HSTs too.
---