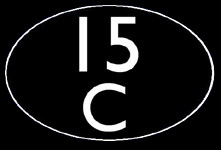 ---
---
Updates
This page will be used to inform visitors when newly taken photographs have been added to the site. The picture links you see below, will take you to the picture, but if you wish to return to the updates page, you will either have to click 'back' or click on the updates tab at the top of the page.
Latest update - 10 December 2017 @ 1730
---
9 December 2017 - Mixed Bag Saturday
Added 10 December 2017
The much promised full sun day east of Sheffield turned out to be yet another false promise from the Met Office, but I still managed quite a few shots. First off was a selection of night shots at Sheffield including the 20s on the RHTT (the reason for my visit). I then chased out east to grab some shots of the 20s in various locations, but all I got was a pair of 142 and just one lucky sunny shot of the 20s. The evening was spent at Grantham taking a few night shots which included a 59 and a 'Scot' on railtours.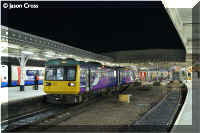 ---
4/5 December 2017 - East End of the Central Line
Added 6 December 2017
I headed down to the east end of the Central Line for a try at the 1962 Tube Stock Rail Adhesion Train and a battery loco working.
---
2 December 2017 - 37601
Added 6 December 2017
While en route to Derby for a night shot of 37601, I noticed it had departed early, so diverted to Loughborough for a moving night shot instead.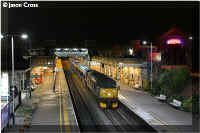 ---
25 November 2017 - Class 31 Night Shoot
Added 27 November 2017
An enjoyable evening on a photo charter organised by Northeast Rail Photos with 31206 at the Ecclesbourne Valley Railway. How very nice to attend a diesel photo shoot where I was just a punter and not the organiser.
---
18 November 2017 - Welton
Added 19 November 2017
A quick trip up to Humberside for a go at the 20s on the RHTT heading to and from Hull, which was based upon a top forecast for the area....so I am very disappointed to say I've seen better light...
---
18 November 2017 - Bakerloo Batteries - Part 2
Added 19 November 2017
Round 2 of engineering trains on the Bakerloo Line, and a variation on the shots from last time, as they were booked to arrive at Queen's Park running 'bang road' on the southbound. A bonus shot was also grabbed at West Hampstead.
---
12 November 2017 - Poppy Battery Loco and A Stock
Added 15 November 2017
For what I believe is the first time, a battery loco carried a poppy to show respect for the fallen. The guys at Transplant not only applied this feature to a couple of locos, but also raised a decent sum of money for the Royal British Legion. I was keen to capture a loco with a poppy, and I am grateful to those at Transplant who kept me up to date on when it would be out, and also for making sure the cab lights were on as it passed through Harrow-on-the-Hill. A shame about the Uxbridge train blocking any shot from the opposite platform, but my more head on platform-side stance certainly takes the eye to the poppy, which of course was my main reason for being there. Before leaving, I also managed a few pictures of the A Stock.
---
12 November 2017 - Lincolnshire Diverts
Added 15 November 2017
Various trains being diverted away from the ECML through Lincolnshire.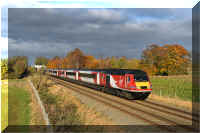 ---