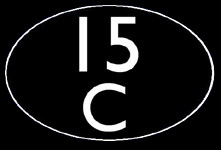 ---
---
Updates
This page will be used to inform visitors when newly taken photographs have been added to the site. The picture links you see below, will take you to the picture, but if you wish to return to the updates page, you will either have to click 'back' or click on the updates tab at the top of the page.
Latest update - 19 July 2018 @ 0600
---
17 July 2018 - Sheffield Trams
Added 19 July 2018
Just a couple of pictures of Sheffield trams taken in passing.
---
14 July 2018 - ECML and London
Added 19 July 2018
An early morning and evening session on the East Coast Main Line to the north of London with a brief foray into London in between.
---
8 July 2018 - London
Added 10 July 2018
Despite being around the Scottish border the previous day, I was up and out early to grab a few shots on the Piccadilly Line near Park Royal.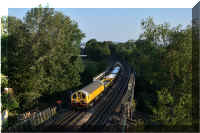 ---
7 July 2018 - On the Border
Added 10 July 2018
The day was spent in the Berwick upon Tweed area capturing ECML services worked by 91s and HSTs. A few spots were tried, including the Royal Border Bridge, Spittal and across the border at Lamberton, Ayton, Burnmouth and Houndwood.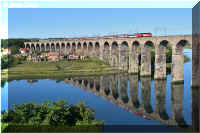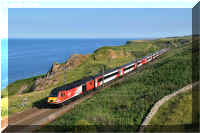 ---
6 July 2018 - Rainbow Shed
Added 10 July 2018
66720 was on 4L22 so I called in to a spot near Langham on the way home from work.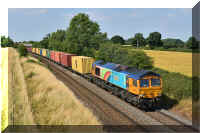 ---
2-4 July 2018 - Local Stuff
Added 5 July 2018
Yet more sunny weather, so a few local bits taken before and after work. The appearance of 'Biffa' liveried 66783 was welcome.
---
1 July 2018 - ECML
Added 5 July 2018
A day on the south end of the East Coast Main Line, mainly focussing on the Welwyn area.
---
30 June 2018 - Cumbria With a Difference
Added 5 July 2018
With a cracking forecast, a trip to Cumbria was in order, but after a couple of shots on the coast, I moved inland to photograph the temporary passenger service operated by West Coast Railways on the Windermere branch.
---
27-29 June 2018 - Leicestershire Stuff
Added 5 July 2018
Clear blue skies, so a bit of after work photting.
---
26 June 2018 - Local Stuff and Sheffield
Added 5 July 2018
A day off work in order to visit Sheffield, but there was time for a bit of local stuff before heading north.
---