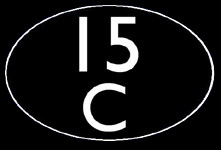 ---
---
Updates
This page will be used to inform visitors when newly taken photographs have been added to the site. The picture links you see below, will take you to the picture, but if you wish to return to the updates page, you will either have to click 'back' or click on the updates tab at the top of the page. Meanwhile, the revamp continues with new galleries popping up, and exisiting ones being populated.
Latest update - 14 October 2017 @ 2130
---
14 October 2017 - Bullied Again
Added 14 October 2017
An afternoon clear out saw me make a local move to the GCR as 34081 was out again. Believe it or not though, despite being the middle of October, it was too warm for a decent exhaust.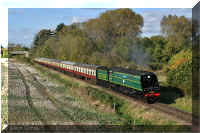 ---
10 October 2017 - London
Added 14 October 2017
I was in London to present a slide show to the London Underground Railway Society themed around LU engineering trains. I decided to make a day of it, and as well as some run of the mill stuff, I also managed several shots of the A Stock Rail Adhesion Train, several engineering trains and also the 1973 Tube Stock Rail Adhesion Train at the east end of the Piccadilly Line.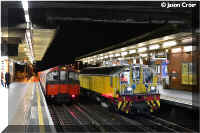 ---
8 October 2017 - Bullied
Added 14 October 2017
The GCR's Autumn Steam Gala saw the visit of Battle of Britain class 34081 '92 Squadron', so cue jammy sunny shot on the vans.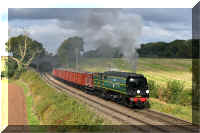 ---
7 October 2017 - Bluebell Deltics
Added 14 October 2017
As part of the Deltic Preservation Society's 40th Anniversary Gala at the Bluebell Railway, the EMRPS were asked to stage a little night shoot as part of the event. This involved D9002 on the Pullmans in the station, followed by getting all three locos grouped together on shed.
---
6 October 2017 - Rotherby
Added 14 October 2017
A quick morning session at Rotherby for 37800 on an EMU drag, but I also ended up with two class 66 hauled freights and a rake of 31s.
---
23 September 2017 - Eurostar for Scrap
Added 23 September 2017
A night time visit to Peterborough for the 6X73 Eurostar scrap move worked by 66753.
---
22 September 2017 - Double Skips
Added 23 September 2017
A lunchtime pop out for the delivery of another Crossrail unit to the Old Dalby test track for testing. Unusually, this was hauled by a pair of class 67s (the working is usually worked by a single loco)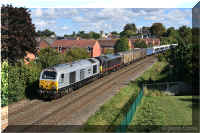 ---