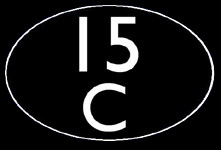 ---
---
Updates
This page will be used to inform visitors when newly taken photographs have been added to the site. The picture links you see below, will take you to the picture, but if you wish to return to the updates page, you will either have to click 'back' or click on the updates tab at the top of the page.
Latest update - 18 March 2018 @ 1800
---
16/17 March 2018 - Acton Town, Hillingdon and Uxbridge
Added 18 March 2018
A late night trip down to the Underground to capture some engineering trains for a possession at Uxbridge. As well as a good smattering of battery loco photos, I also managed to cpature a few other bits, including a couple of ex Victoria Line 1967 Tube Stock cars that had been parked alongside Acton Town station. It turned out to be quite a productive night, and I am especially please with the pictures looking down on the worksite from Park Road bridge in Uxbridge.
---
12 March 2018 - Sheffield
Added 15 March 2018
I was presenting a slide show to the RCTS in Sheffield, and prior to the show, managed to grab a few tram and bus pictures.
---
10 March 2018 - Sandtoft Trolleybuses
Added 15 March 2018
I was invited to light a night shoot for David Williams / Timeline Events. It featured a London trolleybus with an RT bus, and then three Bradford trolleybuses. With some appropriate re-enactors and a rain soaked site, the pictures certainly looked the part. I am especially pleased with the full reflection of the three Bradford vehicles, but I did practically have my camera in the puddle to achieve it.
---
28 February 2018 - Rugby 90
Added 15 March 2018
A football special calling at Rugby with a class 90 at the sharp end.
---
Some Recent Non-Railway Pictures (and one from December I forgot about!)
Added 15 March 2018
---
28 February 2018 - Frisby
Added 28 February 2018
Another attempt at a glinty shed, this time with a bit of snow kicked up from the wheels (not that there was much snow about - just a wee sprinkiling)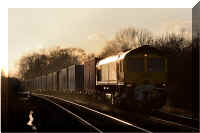 ---
25 February 2018 - Local Stuff
Added 28 February 2018
The prototype HST in action at the GCR(N), a HST approaching Loughborough and a grotty shed on red wagons at Cossington.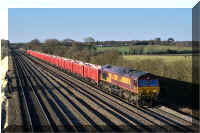 ---
24 February 2018 - South East
Added 28 February 2018
A sunny day, so off to the south east for a mixture of stuff. It was a cracking day which only had one low point, and that was missing a 73 at the foot of the white cliffs as we didn't get there early enough (whoops!).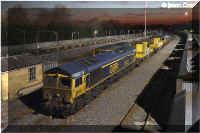 ---
22 February 2018 - Glinty Shed
Added 28 February 2018
Right conditions, right lighting and a train at the right time.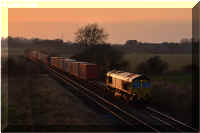 ---
20 February 2018 - London (including Mail Rail)
Added 28 February 2018
I was asked to present a show to the Light Rail Transit Association in London, so decided to make a day of it. I started with some early morning battery locos, then had a chilled out day which included a visit to Mail Rail and a behind the scenes look inside the soon to be closed Hammersmith signal box on the Hammersmith & City and Circle lines. The visit to Mail Rail has also prompted me to add a page which includes a few of my old slides from when the system was still in operation.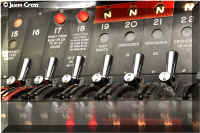 ---