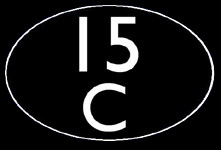 ---
---
Updates
This page will be used to inform visitors when newly taken photographs have been added to the site.
Latest update - 2 July @ 1900
---
30 June 2019 - Crich Tramway Museum
Added 2 July 2019
A leisurely Sunday at Crich.
---
29 June 2019 - London
Added 2 July 2019
There was a few things I wanted to target on this day, and I achieved all of them in what was a clear blue and very productive day, albeit a little on the hot side. The day started on the Dudding Hill line for Flying Scotsman on a railtour, the early morning cloud burning off just a few minutes before it was due. It was then over to the North London Line for a pair of 86s on a Coatbridge to Ipswich container train. I then picked off a couple of shots I wanted on the Underground at High Street Kensington and Ealing Broadway, and then the big one.....I had managed a very pleasing picture of Met 1 the previous week at a location near to Park Royal station. I commented at the time that it would be nice to nail an engineering train there, so I headed there at about the time the sun came on the front and lay in wait. There were several trains in a worksite at West Brompton on the District Line, I just needed one of them to head back to Ruislip Depot while the shot was right for the sun. Right on cue, I received a message from a driver that he was about to leave site, and half an hour later, the shot was in the can. It was then time for a relaxing meal and drink in a pub, and I headed up to Ruislip, parked the car at the station, and was about to head across to the pub when I got word that there was another engineering train heading back to Ruislip Depot. A shot of an engineering train passing the old Metropolitan Railway signalbox at Ruislip has been on my wish list for a long time, ever since one passed there as I was walking back to my car after photographing a steam loco passing through the station back in 2000. The engineering train in question was right behind the steam and I knew nothing about it, but by the time it came into view, I was the wrong side of the fence and could do nothing about it. Now, I had the chance to capture the shot and the sun angle was pretty good. The train passed and I was able to do a long lens shot framed by the cable bridge as well as the shot passing the box - a great end to a very productive day.
---
28 June 2019 - Askham
Added 2 July 2019
An after work photting session at Askham Tunnel on the ECML.
---
22 June 2019 - District 150
Added 25 June 2019
A trip down to London to capture electric loco 12 'Sarah Siddons' and steam loco 'Metropolitan 1' on a series of heritage trips to celebrate 150 years of the District Line. It was a largely frustrating day, with late running of the empty stock in the morning meaning I had to change locations as the sun was going in line at my first choice location. My second choice wasn't bad, and was at least blessed with sun despite the growing amount of cloud. I then managed 12 at Chiswick Park in sun followed by several shots in crap light. The luck changed with the last passenger working at Earl's Court with the sun coming out just as the train appeared. The sky then cleared out rapidly and the empty stock was captured near Park Royal in banging light, and this ranked as my shot of the day. There was also plenty of time to photograph other LU trains, including several at Acton Town, Chiswick Park and Hanger Lane Junction.
---
20 June 2019 - Cemex Shed
Added 25 June 2019
66780 captured at last.
---
17 June 2019 - Syston
Added 18 June 2019
6L44 and a bit of sun.
---
16 June 2019 - Pair of Tractors and a HST
Added 18 June 2019
37402 and 37419 were working a Crewe to Burton ECS, so I made a move across to Portway where I was lucky with the sun on the 37s and a HST which followed them.
---
15 June 2019 - Forders Sidings, Welwyn North & Frinkley Lane
Added 18 June 2019
I was chasing Tornado, but also managed to capture a few EMUs, 91s and HSTs plus a class 230 on the way down toi Welwyn. Sadly, Tornado and the sun never coincided, which was annoying as I captured some nice evening light on a class 180, which was followed by Tornado, but the light died...it sounded quite nice though.
---
12/13 June 2019 - Late Night London Trip
Added 18 June 2019
A late night trip down to London to capture the 1972 MkI Tube Stock, which normally lives on the Aldwych branch, making its way to Stonebridge Park for maintenance.
---
9 June 2019 - Clun Castle and Stapleford
Added 12 June 2019
A quick dash over to the West Midlands for a tour hauled by Clun Castle, followed by a visit to the Stapleford Miniature Railway.
---