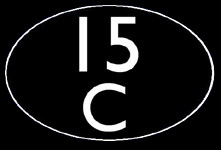 About / Contact
---
Welcome to the 15C website, the photography website by Jason Cross.
This page is all about me, Jason Cross. I will tell you a little bit about myself, my photography and my interests.
---
Personal Life
Originally from Leicester, I was raised in nearby Melton Mowbray but returned to Leicester in my early twenties, where I still live to this day. I am happily married with two grown up children.
---
Working Life
Upon leaving school I trained as a mechanical engineer, forging a career as a CNC machinist and programmer. My engineering career supported me for over 30 years, but my final job in this industry saw me concentrating more on the commercial side and moving away from the technical side (not by choice), and to be perfectly honest, I just got bored with it. I decided to seek a new challenge and looked towards the railway industry. After a few attempts with various companies, I managed to secure a position with GB Railfreight and was initially trained as a Rail Operator (ground staff) and then moved on to the Old Dalby test track where I trained as a test train driver. My main role is at the test track, but I can be used elsewhere within the business where my competencies allow. It's a great job and I consider myself fortunate that I was able to make the career change when I did.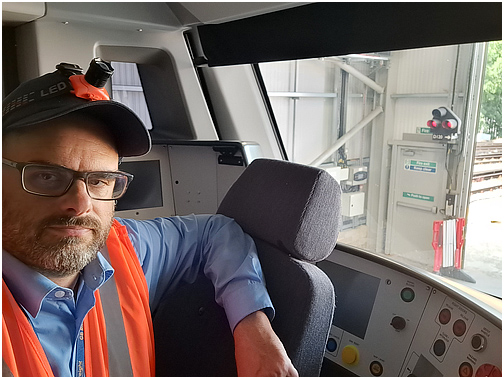 Best job in the world.
---
My Interests
Most of my interests were triggered during my childhood. Mainline railways were sparked by the view of the Syston to Peterborough line from my bedroom window as a child, and an interest in steam by regular visits to the Great Central Railway during its early years as a preserved railway. My affection for the London Underground goes back to my first visit to London in 1977 for the Silver Jubilee of the late HM Queen Elizabeth II, and I can remember visiting Trafalgar Square followed by descending into Trafalgar Square Underground station (now Charing Cross) and boarding a little red train, which I know now was a train of 1938 Tube Stock. I found it fascinating, and still do to this day. An interest in trams was definitely sparked by a holiday in Blackpool in the 70s and by visits to the Crich Tramway Museum where Leicester tram number 76 was operational at that time. My interest in aviation probably goes back to the school playground where there was much talk about what aircraft we had seen, and at that time there was a lot of low flying over the Melton Mowbray area which included Harriers, Phantoms, A10 Warthogs and the newly built Tornados which were based nearby at RAF Cottesmore. The exception seems to be buses. For many years I never paid them any attention, then one day while photographing Underground trains in London I stumbled upon a vintage bus running day. I started taking pictures of the buses, and thoroughly enjoyed it. I searched online for more running days and found one in Leicester, which set off memories of old Leicester buses from my childhood. I have been popping off pictures of buses old and new ever since.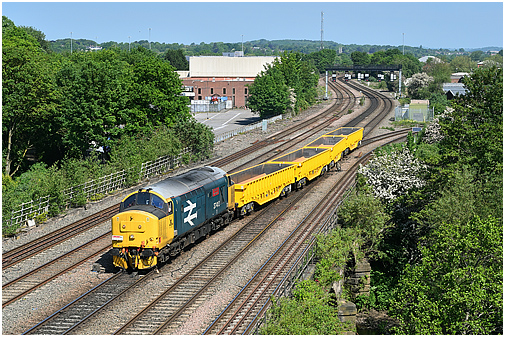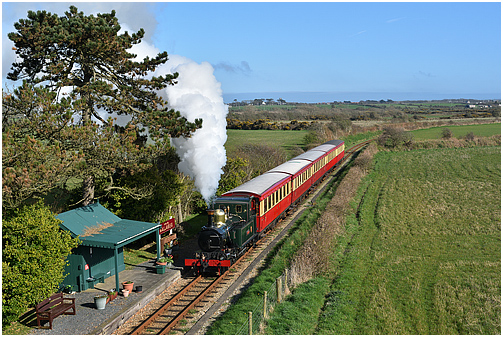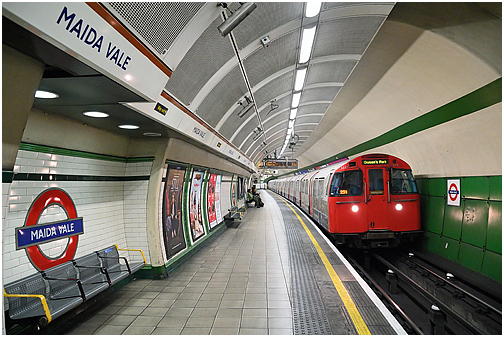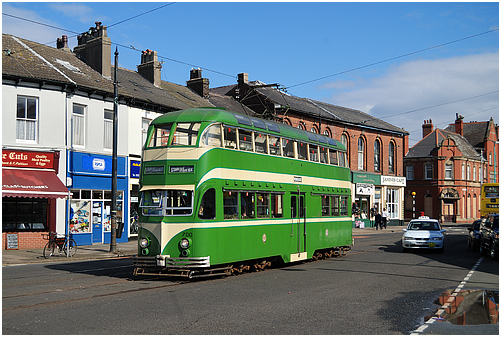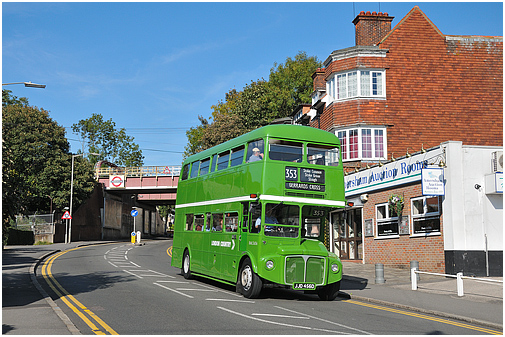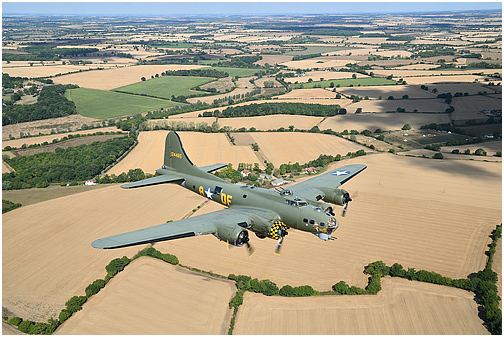 ---
My Photography
I make no secret of the fact that I like a well lit front three-quarter shot of most transport subjects, and flat grey boring light doesn't usually interest me. That said, this is not a hard and fast rule, and if I think there is merit in taking a shot outside of these parameters, then I will do. Sometimes it is good to adopt a different angle, maybe go for a glint or a silhouette or maybe take an image that you know will work as a black and white image. I also really enjoy night time photography and have tried to hone my photography and processing skills to allow the taking of pictures in low light of moving subjects, many of which appear on this site.
My main aim with photography is to take pictures that please me, it is after all my hobby and after putting in all the effort, time and miles, I want to enjoy looking at the results. Of course, if other people also look at my photographs and take enjoyment from them, then that is a wonderful bonus.
When I started taking photographs in the mid 1980s, I did not have a clue what I was doing and most of the results from that time are poor. One or two have been 'made good' by digitising and cropping / correcting the original image, but by and large most are rubbish. Some of them do appear on this website though as I believe it is good to demonstrate how my photography has improved over the years, plus, although the quality of an image does not improve over time, the subject matter will more than likely become more interesting.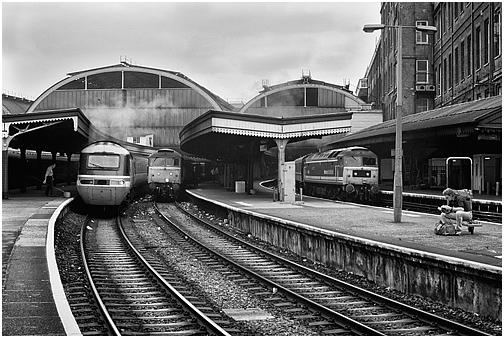 One of my older images that has benefitted from being 'made good'. It was
poorly composed and under-exposed so has been corrected and converted
to black and white. It is an unrepeatable scene which I think is made all
the better by the enthusiast sat on the luggage trolley thumbing his all line
timetable. Paddington in 1990.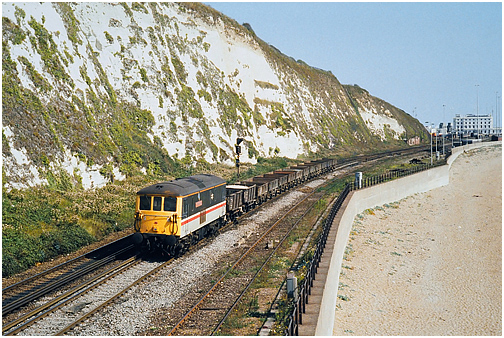 Another example, taken on slide, the original was horrendously over-exposed.
This slide was photographed using a digital camera to create a RAW file, from
which this corrected result has been processed. 73130 at Dover in 1991.
I am a bit of an old fuddy-duddy when it comes to photography. I try to maintain a certain standard with my pictures, and while I know it is subjective and what I consider to be a great shot may not be a great shot to someone else, I don't particularly enjoy looking at poorly taken pictures. Unfortunately, the internet, and social media in particular, can sometimes become awash with poorly taken and poorly lit images. I'm afraid I am likely to scroll by anything poorly taken, but equally, I will always enjoy looking at well taken pictures taken by other photographers.
---
Influences
A lot of people have influenced the way I take pictures, but two in particular stand out, R.C. Riley and Mike McCormac. Dick Riley was a photographer who is sadly no longer with us, and unfortunately I never met him, but I am a massive fan of his work. His pictures were usually well lit and tended to take in the scene around his chosen subject. His pictures therefore tend to include a lot of background interest and as his pictures were taken in times past, they also include a lot of history.
Mike McCormac is also sadly no longer with us, but I am grateful that I got to know Mike quite well and could call him a friend. When it came to capturing the mood of a scene there was nobody better in my opinion and his eye for an artistic railway photograph was second to none. One of the things that Mike used to say to me about artistic photography is that a some of it will work and some of it won't and the true art is in deciding what has worked and what hasn't. On his death bed he produced a book which now takes pride of place on my bookshelf. In it he describes me as one of his influences, something that I am truly humbled by.
---
Equipment
I currently use a full-frame Nikon Z6 mirror-less camera as my main body with a full-frame Nikon D750 as a spare camera. I have also added a Nikon Z50 into the kit bag. Although this has a crop sensor and might seem to be a backward step from full-frame, it is an easy way of getting another x1.5 out of my largest lens which goes from being a 150-600mm zoom to effectively a 225-900mm zoom. This is quite useful for aviation photography.
I have used various cameras over the years, starting with a Praktica MTL50, then moving over to various Minolta cameras before finally settling on Nikon a few years before switching from slide film to digital. I have used several digital cameras starting with a Fuji Finepix S5500, then Nikon models D50, D80, D300, D600, D750, Z6 and Z50.
I also use a couple of devices to gain height, a pole and a drone. Both give me a few extra options and help to increase the variety of shots that I can take and also increase my enjoyment of the hobby.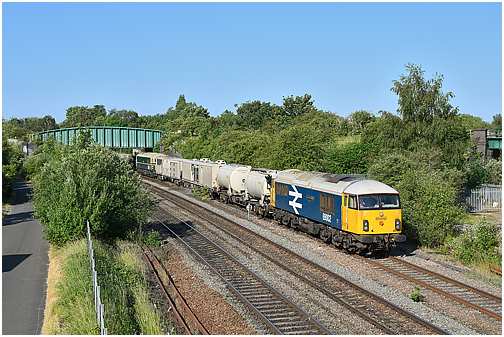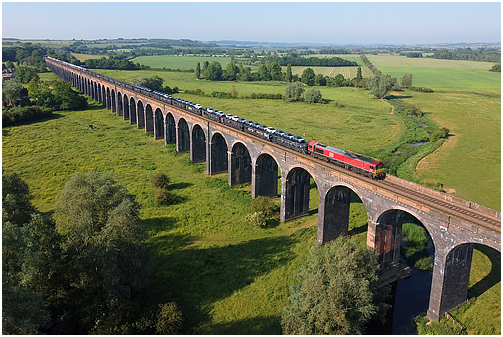 Pole shot at Trent Down Loop (you can't see over the fence and bushes from the ground) and a drone shot of Harringworth Viaduct.
---
Slide Shows
I enjoy presenting slide shows to camera clubs and transport related clubs and societies and have done so for several years at locations all over the country. There is now a snag however, and that is that since I started working on the railway, I have to keep a close eye on my rest hours. For this reason, I now restrict the distance I am prepared to travel in order to present a slide show. There is also an element of risk if I take on a booking. When I am working at the test track, I get quite a bit of vision of my shift patterns and can accept bookings based upon this. However, if I am requested to work away from the test track, this is usually at fairly short notice and can result in me having to cancel, so please factor in this risk if you would like me to present a show to you. I do my best to avoid cancelling wherever possible, but occasionally it is unavoidable.
---
Contact
To get in touch, please use the email address below. This is not a clickable link for security purposes, so you will need to type this address in manually. I also have a 15C Facebook page and a Flickr page which can be reached by clicking on the logos below.

Although I like most of the interaction that you can get by posting pictures on social media, I don't like the attention seeking keyboard warriors that lurk on various groups (mostly rail related) constantly berating, insulting and criticising the way people carry out what is essentially just a hobby. I tend not to respond to these comments very much (unless I am in a particularly confrontational mood), as I really cannot be bothered to give these people the attention that they seek, plus doing so would probably dent the enjoyment that I get from my hobbies. It just means that I don't post pictures to facebook groups as much as I used to.
---
Copyright
All of the content on this website is the sole copyright of Jason Cross. Images and videos may not be copied or re-published, either on printed page or over the internet without the written permission of Jason Cross. All pictures on this site are watermarked and are uploaded at a size which is too small to achieve good quality printed reproduction. If you would like to use one of my images, please contact me (see the top of this page) to arrange permission and / or for a non-watermarked high resolution version to be sent across. There may be a charge for such use dependant on the application. Jason Cross will retain the copyright at all times. Jason Cross reserves the right to refuse a request.
The above may sound a little regimental and formal, but these are my photographs, and I should be able to control when and where they are used. There are laws in place to protect photographer's copyrights, please don't give me cause to have to take legal action.
---