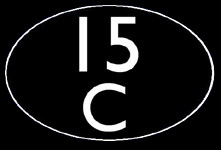 Latest Updates
When new content is added to the website, it will appear on this page for a short period, after which it will disappear from here, but will still be on the appropriate pages elsewhere in the website.
Last update 31/8/21 @ 1100
---
Added 31 August 2021 - North Norfolk Railway (30 August 2021)
A picture of the DMU service at Sheringham, taken while on a day trip to the seaside with my wife.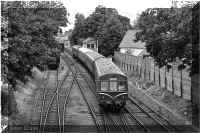 ---
Added 31 August 2021 - London Underground (29 August 2021)
A Sunday morning trip down to London.
---
Added 31 August 2021 - BBMF Flypasts (28 and 29 August 2021)
A couple of Spitfire flypasts during the Bank Holiday weekend.
---
Added 31 August 2021 - 1992 Tube Stock on Tour (26 August 2021)
A train of Central Line 1992 Tube Stock on the Old Dalby test track during the testing of AC traction motors.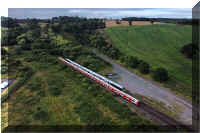 ---
Added 18 August 2021 - Red Arrows Display Practice (13 August 2021)
The sky above RAF Waddington was blue, the sun was shining, cue some red jets - smoke on...GO!
---
Added 18 August 2021 - RAF Shawbury and RAF Scampton (12 August 2021)
It was families day at RAF Shawbury, featuring some Juno helicopters, the Red Arrows and the Typhoon Display Jet. After the displays, I headed across to RAF Scampton to get the Red Arrows arriving back at base (they performed elsewhere after Shawbury, so there was time to drive across the country).
---
Added 9 August 2021 - Local Stuff (7-9 August 2021)
A trio of local shots.
---
Added 9 August 2021 - RAF Scampton (8 August 2021)
At last, a runway 22 take off, as every time I go they seem to use runway 04. Despite the crap forecast, and getting a bit wet, the sun did put in an appearance briefly. The Reds were off to Biggin Hill, from where they would fly to Folkestone and perform a display.
---
Added 7 August 2021 - New Railway Videos
I have added a few new railway videos to my youtube channel which feature the mainline scene and London Underground in the first half of 2021.
---
Added 5 August 2021 - Class 20s (4 August 2021)
A pair of 20s on railtour duty approaching Leicester.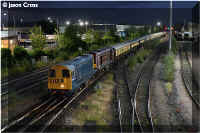 ---
Added 5 August 2021 - Old Buckenham Airshow (31 July 2021)
My wife and I attended the Old Buckenham Airshow in Norfolk. It was my wife's first airshow, and the first one that I had attended since I was a child. The entertainment was superb and the weather held quite nicely. Too many highlights from which to single anything out, so please just enjoy the photographs of a wide variety of aircraft.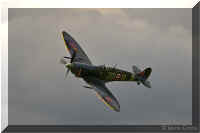 ---
Added 5 August 2021 - Leicester Buses (29 July 2021)
A few random pictures of buses taken in Leicester.
---