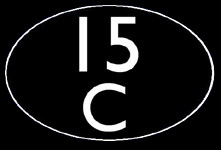 Latest Updates
When new content is added to the website, it will appear on this page for a period of about one month.
Last update - 2/12/19 @ 2230
---
Added 2 December 2019 - Mid-Hants Railway (24 November 2019)
Despite having just come off the back of a mammoth London session, this day saw me at the Mid-Hants Railway for a Timeline Events photo charter with BR liveried 'Schools' class 30925 'Cheltenham'. Thankfully I didn't have to drive, so managed to catch some sleep on the journey down. The day was overcast all day, but when you book on a photo charter, you take whatever the weather throws at you and make the most of it. I am quite happy with some of these shots, especially the early morning mist shots. The event was finished off with a very enjoyable night shoot in Ropley station.
---
Added 2 December 2019 - London (22/23 November 2019)
The main reason for visiting London was in fact to pick up my wife and daughter late on Saturday night, but as there was a major possession on the Metropolitan Line, I decided to head down on Friday night and bag some battery locos. I also had time to get across to Newbury Park for the RAT before all the battery locos came out to play. The main shot I was after was the one in the cutting near Lord's disused, and I managed two trains here, which I was very pleased with. Most of Saturday was spent touring the Underground, but in the evening I camped out on the Metropolitan Line and bagged the D Stock RAT and a couple of engineering trains heading back to Ruislip.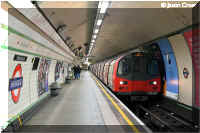 ---
Added 19 November 2019 - Class 31 at Leicester (17 November 2019)
It's been a long time since I last saw a 31 passing through Leicester; they were very common when I was young.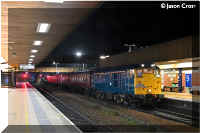 ---
Added 19 November 2019 - Stapleford Miniature Railway (16 November 2019)
An EMRPS photo charter with a difference as we went miniature for an evening at the Stapleford Miniature Railway. It was a fantastic night and we received a very warm welcome. The photo opportunities gave us a mix of Stapleford recreations using locos that used to work on the railway in the 1970s, and trying to make the US outline loco look full size. Many thanks to all at Stapleford for their hard work and great welcome, and to the photographers who supported the event. All of the money raised was donated to local hospice charity LOROS.
---
Added 13 November 2019 - Leicestershire (10 November 2019)
Kinchley Lane for a DMU, followed by some autumnal pictures of Swithland Reservoir.
---
Added 13 November 2019 - London (9 November 2019)
London on a day out with my wife. Plenty of squirrels, plenty of trains, and finished off with a 230 at Ridgmont on the way home.
---
Added 13 November 2019 - Test Shots (7 November 2019)
A couple of HST pictures at Loughborough taken while testing the new camera.
---
Added 13 November 2019 - Sunrise (6 November 2019)
A misty morning in the Wreake Valley.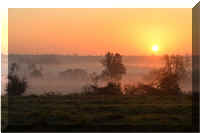 ---
Added 13 November 2019 - Melton (4 November 2019)
A lunchtime stroll in the park in Melton Mowbray.
---
Added 13 November 2019 - Blackpool (1 November 2019)
A night out in Blackpool at Scruffy Murphy's...but not before grabbing a few piccies.
---