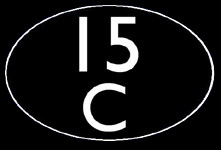 Latest Updates
When new content is added to the website, it will appear on this page for a short period, and will then move to an updates archive page.
Last update 19/1/21 @ 1830
---
Added 19 January 2021 - Leicester (15/16 January)
Three pictures taken from Swain Street Bridge in Leicester.
---
Added 19 January 2021 - Leicester Buses By Night (14/16 January)
A selection of pictures of buses on 'my manor'.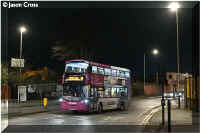 ---
Added 19 January 2021 - London Buses (7 November 2020)
Better late than never, a couple of pictures of London buses that I forgot to add to the site.
---
Added 13 January 2021 - Local 66s and a Couple of 90s (12/13 January 2021)
A couple of local bits, which includes the rare sight of a pair of 90s in my local area.
---
Added 13 January 2021 - Scans (various dates)
Wednesday scans. I'm afraid I missed Tuesday, something to do with having a birthday in our household and I thought I might get a bollocking if I sat in front of the computer scanning pictures LOL. The shot of the B1 has already featured on this site, but has been re-scanned.
---
Added 11 January 2021 - Scans (various dates)
Monday scans.
---
Added 10 January 2021 - Scans (various dates)
Five scans for Sunday.
---
Added 10 January 2021 - A Couple of New Pictures (9 January 2021)
Fog and sun.
---
Added 9 January 2021 - Scans (various dates)
Saturday's 'five a day'.
---
Added 8 January 2021 - Scans (various dates)
Today's 'five a day'.
---
Added 7 January 2021 - Five a Day (various dates)
Let's see if I can manage to upload five old pictures per day during this lockdown....
---
Added 6 January 2021 - A Few Oldies (various dates)
A selection of pictures from 1990, 91, 92 and 99.
---
Added 6 January 2021 - First Pictures of 2021 (2/4 January 2021)
A few bits from the start of the year, including my first sunny picture of 2021 and a few night shots in and around Leicester station.
---
Added 5 January 2021 - Comment
So here we are at the start of 2021 once again in lockdown due to this damn virus. What winds me up more than anything about this is not the lockdown itself (although that is a pain), but the endless stream of drivel from people who look to blame others for the situation we are in, insist on being both cyber covid police enforcement agents and epidemiologists. It's a virus for goodness sake! It can transmit as easily as filling your car up with petrol with a petrol pump that has just been used by somebody with covid on their hands…and then you pick your nose! On that note, how many of you sanitise your hands before you enter a shop (to protect others who may touch something after you have touched it), and as you leave (to protect yourself after touching something that may have been touched by others). My observations in recent months suggest very few (as many seem to think that putting on a face covering makes them invincible), and that could be just one of many ways that the virus is transmitting. So perhaps we should all just concentrate on our own actions to try and do all we can to help prevent transmission of the virus, rather than blaming the government, scientific advisors, people who went out for a drink in September or to a beach last June. When this virus first 'got real' in March 2020, everyone was all for 'being kind' and clapping the NHS and care workers. Now all I ever seem to read is people bitching and getting in to other people's business in order to criticize and blame them, probably because it's a lot more comfortable than taking a look in the mirror. It's sad, as there are many people I know who have tried to do their best for themselves and for others throughout this pandemic, but we never seem to get to hear about people doing the right things as the moaners have the floor.
On that note, just a quick description of how I see my website going over the next few weeks. There will be content added, so feel free to check back on this updates page to see any newly added pictures. I suspect with more time being spent at home, some of these may be freshly digitised old pictures from prints and slides, but also expect some new content, which I suspect will be all local stuff. I have to travel for work, and will be taking advantage of daily exercising in line with the guidelines, and you just know I'm going to try to time the exercise or journey with something to photograph wherever possible. After all, if it's OK to go to a Garden Centre, it's OK to pause on my way to work to stand alone in a field to take a quick piccie. If anyone else manages to get some photos during this time, I shall enjoy looking at them and will not feel the need to ask them to justify why they were present to take the picture. We all have different life situations, reasons to be out of the house, reasons to travel, methods of combining pressing a shutter with taking exercise and we even have different mental health situations. I do not need to know other people's business in this respect, and neither does anyone need to know mine, so I won't be adding notes like 'taken during my daily exercise' or 'taken on my way to work'. I did this during the lockdown last year, and frankly, I got sick of writing it and sick of reading it. I will be doing all I can to follow the guidance, stay at home as much as possible, minimise risk to myself and others, and that really is all I need to say.
On another note, I have been asked by several railway societies if I can present slide shows to them via Zoom or similar portals, but I am afraid the answer is no, so please don't be offended if you ask me and I refuse. Once things return to normal, I am more than happy to present shows again in the normal way.
I wish you all well, and hope that you can all stay safe at this difficult time.
---
Added 1 January 2021 - East Midlands Airport (24-31 December 2020)
Some end of year pictures from East Midlands Airport, starting with a few night shots on Christmas Eve. Between Christmas and New Year there was a fair bit of sunshine and a bit of snow and ice to taje advantage of. I probably spent a bit too much time there during this period, but this was to try and get a picture of an Antonov AN-12 taking off, but this kept me waiting and eventually slipped away under the cover of darkness on New Year's Eve....but at least I managed a few pictures of it when it landed.
---
Added 1 January 2021 - Last Railway Picture of 2020 (27 December 2020)
A HST at Thurmaston.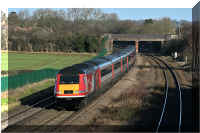 ---
Added 24 December 2020 - Winter Wonderlights Express (20-23 December 2020)
The 'Winter Wonderlights Express' at the Great Central Railway.
---
Added 24 December 2020 - EMA (20/24 December 2020)
Aircraft at East Midlands Airport.
---
Added 24 December 2020 - Leicester (21-23 December 2020)
Photographs taken from Swain Street Bridge in Leicester.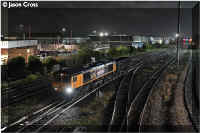 ---
Added 17 December 2020 - Local Bits (14-17 December 2020)
Some local bits round Leicester and Melton Mowbray.
---