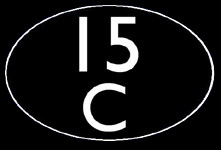 Latest Updates
You may have noticed a lot of changes to the website. I have basically rebuilt it from scratch, tidied up the way pictures are opened, and rearranged several of the menus so that mainline stuff is now by train type and the Underground is line by line. Initially, you may find that some content has disappeared, but the majority of it will return along with some content that has not been seen before or hasnít been on the site for a while. This may take me a little time to do, but hopefully there will be a much larger, more varied selection of pictures on the site.
So why rebuild the website? The number of photographs taken during summer 2019 has been the lowest for years. This hasnít been so much down to weather or lack of things to go for, but more down to my health, which has suffered a slight setback. Nothing too serious, a trapped nerve in my lower back which has made it painful to stand for anything above about a minute at the lineside. It also prevented me from going to work for a while, so the website rebuild was done partly to alleviate the boredom. Hopefully a nicer site will result at the end of it, the back pain will bugger off and I can carry on filling it with up to date pictures in due course.
When new content is added, it will appear on this page for a period of about one month.
---
Added 16 September 2019 - Redhill, Hove, Brighton and Ford (14 September 2019)
First port of call was Redhill for the Hastings unit on a tour. This was followed by Hove, as by then I had the gen that 313201 was on Brighton to Hove shuttles. After a few hours in Brighton, which included the Volks Electric Railway, the day was concluded with a few pictures of the Ford Railway Bridge.
---
Added 16 September 2019 - Grendon (13 September 2019)
An after work move for a pair of 86/6s.
---
Added 16 September 2019 - Great Central Railway Warship Photo Charter (9 September 2019)
Cracking loco...sh*t weather. A very enjoyable day though,
---
Added 16 September 2019 - Great Central Railway Diesel Gala (8 September 2019)
A couple of visitors in the form of class 25 D7523 and class 42 D821, plus the home fleet.
---
Added 16 September 2019 - London, Trains and Buses (7/8 September 2019)
The day started on the Metropolitan Line where there was a series of heritage specials operating. Then it was over to Newbury Park to leave the car and head into London to join a Timeline Events bus shoot. This took in several London locations and finished at Newbury Park, where at one point we had six vintage buses and a taxi posed under the roof.
---
Added 16 September 2019 - London Overground Drag (5 September 2019)
Dinner time at Melton Mowbray for 37884 dragging a 710.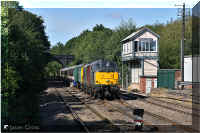 ---
Added 1 September 2019 - Large Logo 47 (1 September 2019)
There was an ECS from Humberstone Road to Crewe, which turned out to be 47593 - whopper!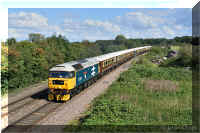 ---
Added 1 September 2019 - Blackpool Trams (31 August 2019)
A day in Blackpool, and the sun came out....eventually. I was pleased to find that on heritage service were 621 and 715. I have only ever photographed 621 in the depot, under a sunset and at dusk, so a few full sun shots were a welcome addition. This was also the first time I had photographed since it was repainted in the 1970s livery complete with period adverts; Blackpool Zoo on one side, and CIS Insurance on the other. As it was working heritage shuttles between Pleasure Beach and North Pier, every time it went to Pleasure Beach it turned on the loop, giving me the chance to photograph both adverts. 717 also put in an appearance on a private hire.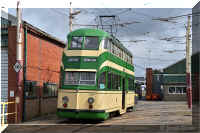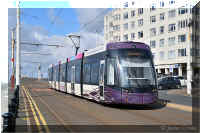 ---
Added 29 August 2019 - Clay Mills and Stapleford (26 August 2019)
A morning trip over to Clay Mills for a railtour hauled by class 50s, followed closely by an 8F with an ECS. Then it was over to the Stapleford Miniature Railway for an enjoyable few hours at their August event.
---
Added 29 August 2019 - Quainton Road Specials (25 August 2019)
Class 33 D6515 and class 20s 20007 and 20142 were working a set of tours between Marylebone, the Metropolitan Line and Quainton Road.
---
Added 29 August 2019 - RT1's 80th Birthday (24 August 2019)
To celebrate 80 years since the first RT was introduced, RT1 took a road trip into Central London for the benefit of the cameras. I was honoured to be asked along and thoroughly enjoyed the day. RT1 wasn't alone though, and was joined by STL441, STL2377, RT4779 and a Brighton open topper (which was used as a photographic platform). Several modern service buses were also photographed as we travelled around, and the day was topped off nicely with a battery loco at Uxbridge which was captured via a minor diversion on the way home.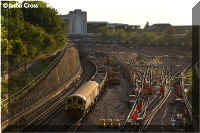 ---
Added 20 August 2019 - London (18 August 2019)
My first trip down to London for a while. The main target was a special from Waterloo to Swanage with a 33 and 73 which I didn't really get anything other than a short video of, but it was just nice to be in and around London again. The day concluded with a very pleasant cab ride on the Metropolitan Line.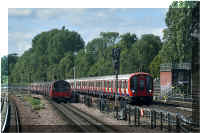 ---