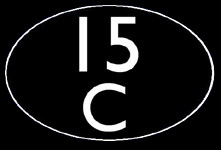 Latest Updates
You may have noticed a lot of changes to the website. I have basically rebuilt it from scratch, tidied up the way pictures are opened, and rearranged several of the menus so that mainline stuff is now by train type and the Underground is line by line. Initially, you may find that some content has disappeared, but the majority of it will return along with some content that has not been seen before or hasnít been on the site for a while. This may take me a little time to do, but hopefully there will be a much larger, more varied selection of pictures on the site.
So why rebuild the website? The number of photographs taken during summer 2019 has been the lowest for years. This hasnít been so much down to weather or lack of things to go for, but more down to my health, which has suffered a slight setback. Nothing too serious, a trapped nerve in my lower back which has made it painful to stand for anything above about a minute at the lineside. It also prevented me from going to work for a while, so the website rebuild was done partly to alleviate the boredom. Hopefully a nicer site will result at the end of it, the back pain will bugger off and I can carry on filling it with up to date pictures in due course.
When new content is added, it will appear on this page for a period of about one month.
Added 20 August 2019 - London
My first trip down to London for a while. The main target was a special from Waterloo to Swanage with a 33 and 73 which I didn't really get anything other than a short video of, but it was just nice to be in and around London again. The day concluded with a very pleasant cab ride on the Metropolitan Line.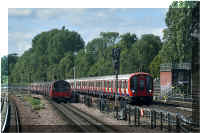 Added 17 August 2019 - Grendon, GCR and Sileby
The move to Grendon was for a pair of 47s on The Statesman. Sadly, they came in crap light, but I did get a pair of 350s and a shed, followed by a bus on the way home. I then also popped out locally for the 47 on the GCR and the vinyled HST at Sileby.
Added 15 August 2019 - Vinyled HST
I managed to capture the specially vinyled East Midlands Trains HST at Cossington on the way home from work. It was just a shame the light wasn't a little stronger.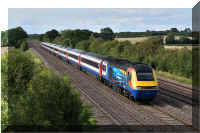 Added 15 August 2019 - Isle of Wight Holiday
A selection of pictures taken during a week long holiday to the Isle of Wight.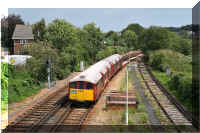 Added 15 August 2019 - Local Bits
A few pictures taken while off work with a bad back. It was all an effort to try and keep mobile in the hope it would relieve the pain. It didn't, so this was the sum total of pictures taken during a two week period.