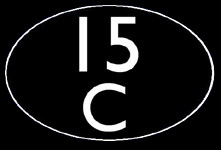 Latest Updates
When new content is added to the website, it will appear on this page for a period of about one month.
Last update - 14/10/19 @ 0630
---
Added 14 October 2019 - Llangollen Railway (12 October 2019)
An EMRPS photo charter at the Llangollen Railway featuring class 25 D7535, class 31 31271, class 47 1566 and a special guest appearance by 'Manor' class 7822.
---
Added 14 October 2019 - Oldies
A handful of older pictures have been added to the site...
---
Added 8 October 2019 - London (6 October 2019)
A speculative trip down to London as I had a bit of info that the 1962 Tube Stock Rail Adhesion Train should make its way across Central London to the east end of the Central London ready for its autumn duties. Just when I thought the trip would prove fruitless, a 'Grange Hill via Woodford - leaving Ruislip Depot' popped up on my phone app, and this turned out to be the RAT. A big thanks to the crew for the cab lights at Holland Park.
---
Added 8 October 2019 - Crewe and Manchester (4/5 October 2019)
What started out as a trip to Crewe for a spoil train worked by a pair of class 20s, ended up including Manchester when 37057 headed that way with a test train. This gave the opportunity for a few tram shots and some units, including plenty of class 142s.
---
Added 8 October 2019 - Rearsby and Rugby (2 October 2019)
A day off work in the sunshine. I didn't get much though, my main target being the 86s on 4M87 at Rugby which was blocked by a Pendolino, so not shot.
---
Added 25 September 2019 - London (21 September 2019)
A glorious day, and I just happened to be in London with some time to spare.
---
Added 20 September 2019 - Melton Mowbray and Easenhall (20 September 2019)
Lunch time and after work for a 37 and a pair of 86s.
---
Added 16 September 2019 - Redhill, Hove, Brighton and Ford (14 September 2019)
First port of call was Redhill for the Hastings unit on a tour. This was followed by Hove, as by then I had the gen that 313201 was on Brighton to Hove shuttles. After a few hours in Brighton, which included the Volks Electric Railway, the day was concluded with a few pictures of the Ford Railway Bridge.
---
Added 16 September 2019 - Grendon (13 September 2019)
An after work move for a pair of 86/6s.
---