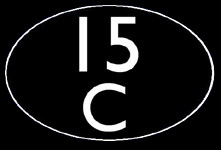 Updates (Archive)
When new content is added to the website, it will appear on the Updates page for a short period before being moved to this archive page. Click on the button below to go back to the main Updates page.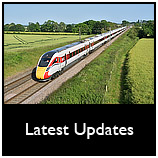 ---
Added 29 June 2020 - London Underground (28 June 2020)
It has been several months since I last visited the London Underground due to the Covid-19 restrictions. On this day, I made a low key 'non-contact' visit to two locations by car to grab a few photos. The first was Arnos Park viaduct where I used the drone to show the viaduct cutting through the park, and the second was Leytonstone where I was after a location which really requires high summer sun to get it lit properly. I look forward to the day when I can once again explore this great system free of the currently necessary restrictions and advice to avoid using public transport.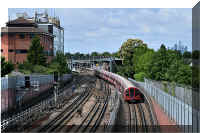 ---
Added 26 June 2020 - WCML Bits (25 June 2020)
Early morning at Mancetter followed by an evening visit to Ansty with the drone.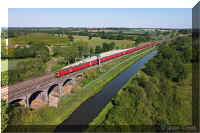 ---
Added 26 June 2020 - Rearsby and Kirby Bellars (24 June 2020)
Early morning at Syston for a red HST followed by an evening visit to Ansty.
---
Added 26 June 2020 - Local Stuff (23 June 2020)
Lunchtime pictures at East Goscote and Thurmaston, followed by an evening visit to Cathiron for the 86s on 4M87.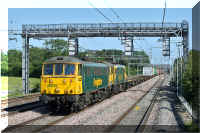 ---
Added 26 June 2020 - Rearsby and Kirby Bellars (22 June 2020)
A drone shot of 6L75 at Rearsby and St Peter's Church in Kirby Bellars.
---
Added 26 June 2020 - East Midlands Airport (21 June 2020)
A Sunday afternoon visit to EMA to capture an AirBridge Cargo 747 and the first commercial passenger flight since the start of the Covid-19 lockdown.
---
Added 18 June 2020 - Antonov AN124 (16 June 2020)
A lunch time break from work made to coincide with the arrival of a Russion Antonov AN124 at East Midlands Airport.
---
Added 18 June 2020 - Leicester Area (13 and 14 June 2020)
A bit of weekend local variety.
---
Added 3 June 2020 - Kilby Bridge & Syston (2 June 2020)
A 37 dragging a Crossrail unit, NHS liveried 66731 on the Birch Coppice and some drone shots around Syston North Junction
---
Added 3 June 2020 - Diverted Sleeper, Biffa 66, Pocket Rocket and a Pair of 20s (1 June 2020)
Some before and after work stuff. In the morning, I headed over to Burton-le-Coggles for the diverted sleeper, and then on the way home paused to capture the Biffa liveried class 66 with the drone as it pulled away from Syston East Junction, followed by the 'Pocket Rocket' HST at Syston South Junction. In the evening, there was a rare move when a pair of class 20s passed through the area towing a rail grinder. This was captured at Rearsby.
---
Added 3 June 2020 - Thurmaston, Crick and Leicester (31 May 2020)
Late morning, I ventured to Thurmaston for a southbound HST which was timed perfectly with when the cutting is fully lit. I then headed off to Crick to capture the class 88 departing from DIRFT with the diverted 4Z45 to Mossend where I also managed a bonus 66 on 4L48. A very pleasant afternoon was then spent walking along the Grand Union Canal, and my return to Leicester was timed perfectly with the 'Flying Tomato' HST heading south on a Nottingham to St pancras service.
---
Added 3 June 2020 - WCML, Melton Mowbray & Rearsby (30 May 2020)
An early start for what I thought was a one shot move to Ashton for the sleeper. I some discovered though, that there were two pairs of class 86s heading south on container trains, so I did the first at Gordon's Lodge, and the second at Milton Malsor. The afternoon was then spent doing 'civilian' things, during which I managed a drone shot of St Mary's Church in Melton Mowbray. Finally, there was a 37 heading back to Derby in the evening, and I popped out to Rearsby to capture this in lovely evening light.
---
Added 3 June 2020 - Grendon & Atherstone (29 May 2020)
I headed across to Grendon with the aim of capturing the class 90s on 4M25 and the pair of 86s on 4M87. Both were captured, although I had been working all day and got away a bit late and had only just got into position when the 90s turned up. I was aware that the 37 I had missed the previous day was on its way back, but I wasn't planning on staying that late, so had dismissed it. I did a line up on realtimetrains and discovered that the 37 was in fact running two hours early, so I dived over to Atherstone station and captured it there. I then did the 86s back at Grendon and had a little play with the drone before heading home.
---
Added 3 June 2020 - Crick Tunnel (28 May 2020)
With a pair of 86s on 4M87 and a class 37 dragging a class 317 EMU to Kilmarnock, I looked for a location that I had not done before. This involved watching a couple of driver's eye view videos on youtube and looking for open spaces. I found one near to Crick tunnel and decided to go and explore. It turned out to be quite a pleasant spot, although it was quite a walk to get to it. The 86s were nailed without issue, but the 37 got caught up in a signal failure on the North London Line and ended up running 90 minutes late, and as I had other things to do, I left before it got anywhere near to me. Ironically, I discovered later, that had I just typed in 'Crick Tunnel' in a Flickr search, I would have found pictures of this location as it has been visited by other photographers. I bet the location would have been shadowed up by the time the 37 got there.
---
Added 3 June 2020 - Melton Mowbray & Grendon (27 May 2020)
Three pictures, the first being a class 66 on 4L93 captured as it was passing Melton Mowbray just as I was heading home from work. Then in the evening, it was off to Grendon for the pair of class 90s on 4S47 and the class 88 on 4S45.
---
Added 26 May 2020 - Class 720 Drag (26 May 2020)
47739 and 47727 took a class 720 unit from Worksop to the Old dalby test track. I managed to capture the train at Cossington, and then again as it made its way up the branch from Melton Junction to the Asfordby Test Centre.
---
Added 26 May 2020 - Bank Holiday Weekend (23-25 May 2020)
Without having to stray too far, there was a tremendous amount of variety that could be photographed over the course of the weekend, the highlights probably being the diverted DRS intermodals on the ECML which were worked by a class 88/68 combination.
---
Added 22 May 2020 - Local Stuff (15-22 May 2020)
There has been a lot of sun recently, so there has been a lot of moves for train pictures, mostly before and after work, plus a handful of purposely timed lunchtime 'pop outs'. It is all local stuff, which is no bad thing as in normal times, I often have a habit of travelling half way across the country and ignorning what is on my doorstep. You may notice one or two very elevated shots among these. In the boredom of lockdown, I bought myself a little drone, which I have been having a play with, it's quite a fun piece of kit.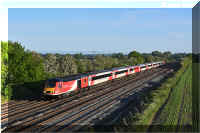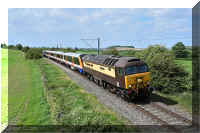 ---
Added 14 May 2020 - Railway Bits (6-14 May 2020)
If you look at my 2020 railway page, due to the coronavirus lockdown, there were just two entries for April! May has already faired better and with the lockdown gently being eased, I hope the sight of trains doing their stuff in the sunshine will replace staring at four walls!
---
Added 14 May 2020 - Archive Pages
I have added some archive pages of the UK mainline scene from 1987 to 1996. More will be added in due course. Some of the pictures may be of dubious quality, but hopefully the subject matter will make up for that.
---
Added 26 April 2020 - Leicester Buses (26 April 2020)
Yay! I've photographed some trains! It has been over a month since I last photographed a train and I actually managed a couple, both of which were HSTs. I would be lying if I said this wasn't a part of a well executed little plan. I worked out a walking route for my daily exercise which took me out via Welford Road just as one HST was due, and back via New Walk when the next HST was due. Thanks to being able to watch the trains on live maps, I was able to adjust my pace so that I reached each spot at the same time the trains did, so no need to hang around. On the way home, I managed a couple of bus pictures, the Clock Tower with nobody in the shot, and a picture of the (legal) graffiti by the canal at Frog Island.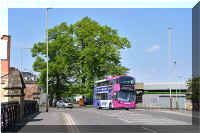 ---
Added 25 April 2020 - Leicester Buses (24/25 April 2020)
A couple more pictures of Leicester buses added.
---
Added 22 April 2020 - Leicester Buses and Some Birds (21/22 April 2020)
With the lockdown in place since 23 March, this was the first time I had been out with the camera, just popping off a few snaps as I took my permitted daily exercise close to home.
---
Added 18 April 2020 - Belgium
A new page has been added which is dedicated to Belgian railways.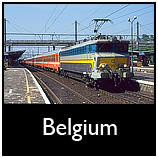 ---
Added 12 April 2020 - Slide Scans (various)
Class 37 hauled passenger trains in the Rhymney Valley from 2005, some pictures from the Netherlands from 2003, plus a few other bits.
---
Added 7 April 2020 - Slide Scans (various)
More old scans, a bit of snow, a Belgian liveried 90, the Rhymney Valley and a few pictures from Belgium.
---
Added 29 March 2020 - Slide Scans (various)
Ten more old scans added to the site.
---
Added 25 March 2020 - Before the 'Lockdown' (21-23 March 2003)
While observing social distancing and avoiding using public transport, I managed a few shots including some WCML pictures, a 56 at Stanton Gate, a 767 at EMA and a couple of 66s at Frisby while on my way to work. Later in the day, after taking the Frisby pictures, the 'lockdown' came into effect and the camera is idle awaiting its next duties...
---
Added 25 March 2020 - Goole Docks (15 March 2003)
A new page has been added with pictures of 'Pug' 51218 (disguised as 51222) during a Russ Hillier photo charter in Goole Docks in 2003.
---
Added 19 March 2020 - Workington Steelworks (31 March 2001)
I have added a page dedicated to a photo charter that I attended at the Moss Bay Steelworks in Workington in 2001. The works were closed for the weekend and we had free roam of the site with four steam locos which picked up various wagons and provided a spectacular show. It is such a shame that the works closed in 2006 and have since been flattened.
---
Added 19 March 2020 - Slide Scans
A selection of oldies have been added to the site. Keep checking back, as there are more to come...
---
Added 18 March 2020 - Rare Tractor Working (15 March 2020)
What a whopper! 37218 dropped on a Tesco intermodal working. I managed to get across to Rugby for it and captured it applying the power with a dusk sky as a backdrop. I then hung around for a few minutes for a northbound freight, which turned out to be an 88.
---
Added 18 March 2020 - Hoby and Frisby (12 March 2020)
The sun was shining on the way to work, and two freights were heading towards me, so I grabbed a couple of pictures.
---
Added 18 March 2020 - Shrewsbury (7 March 2020)
47712 has been painted in Scotrail livery, so I couldn't resist a quick dash to Shrewsbury to take a look and grab a photo.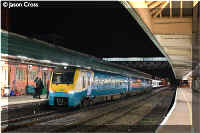 ---
Added 7 March 2020 - Melton A4 (7 March 2020)
I headed across to Melton Mowbray, close to the old foot crossing where I started trainspotting in 1978, to capture an A4 on a railtour. It was very nearly in sun...but not quite.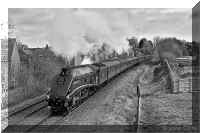 ---
Added 7 March 2020 - East Midlands Airport (6 March 2020)
Having heard that a Qatar Cargo 747 had flown in to EMA, I was able to divert that way on my way home from work to grab a few pictures. I managed to capture it in the Cargo Terminal in sun, but the light died for its take off, but I like the shot anyway, so I have included it. I wouldn't mind another go at something similar in sunshine, so may well make a return visit soon.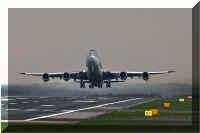 ---
Added 7 March 2020 - London (3 March 2020)
I presented a slide show to the RCTS Watford branch, and afterwards took a short drive down to North London to grab a few pictures of battery locos. My main target was train 641 which was heading for Kingsbury on the Jubilee Line, which I did at Rayners Lane and again at Kingsbury.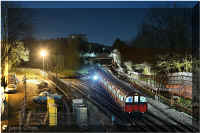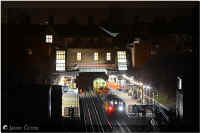 ---
Added 7 March 2020 - East Midlands Airport and Aeropark (1 March 2020)
I attended a Threshold.aero photoshoot at the East Midlands Aeropark, and also stuck my camera over the fence at the adjacent East Midlands Airport. Although all the aircraft in the Aeropark were static exhibits, it was nice to have a good look round and grab several pleasing images.
---
Added 7 March 2020 - Merseyside (29 February 2020)
I took a trip up to Merseyside to see the aircraft carrier 'HMS Prince of Wales' which was berthed at the Cruise Terminal in Liverpool. While I was there, I also grabbed a few pictures of class 507 and 508 EMUs as they won't be around for too much longer.
---
Added 7 March 2020 - Buses and Landscape Pictures
A few bus and landscape pictures taken in February that I had inadvertently forgot to add to the website.
---
Added 24 February 2020 - Midland Metro (23 February 2020)
I thought I would go and take a look at the new extension to the Midland Metro system into Centenary Square in Birmingham.
---
Added 24 February 2020 - London (22 February 2020)
This was a day out in London with my wife, but as there was some engineering works taking place at Highgate Depot, I parked strategically at nearby East Finchley and managed a few battery loco pictures without causing too much friction :-)
---
Added 24 February 2020 - Rugby (21/22 February 2020)
There was a GBRf liveried class 92 on the Caledonian Sleeper, so I went for that and managed a few other bits and bobs too.
---
Added 24 February 2020 - Grantham (20 February 2020)
A couple of shots taken at Grantham just before I presented a slide show to the Grantham Railway Society.
---